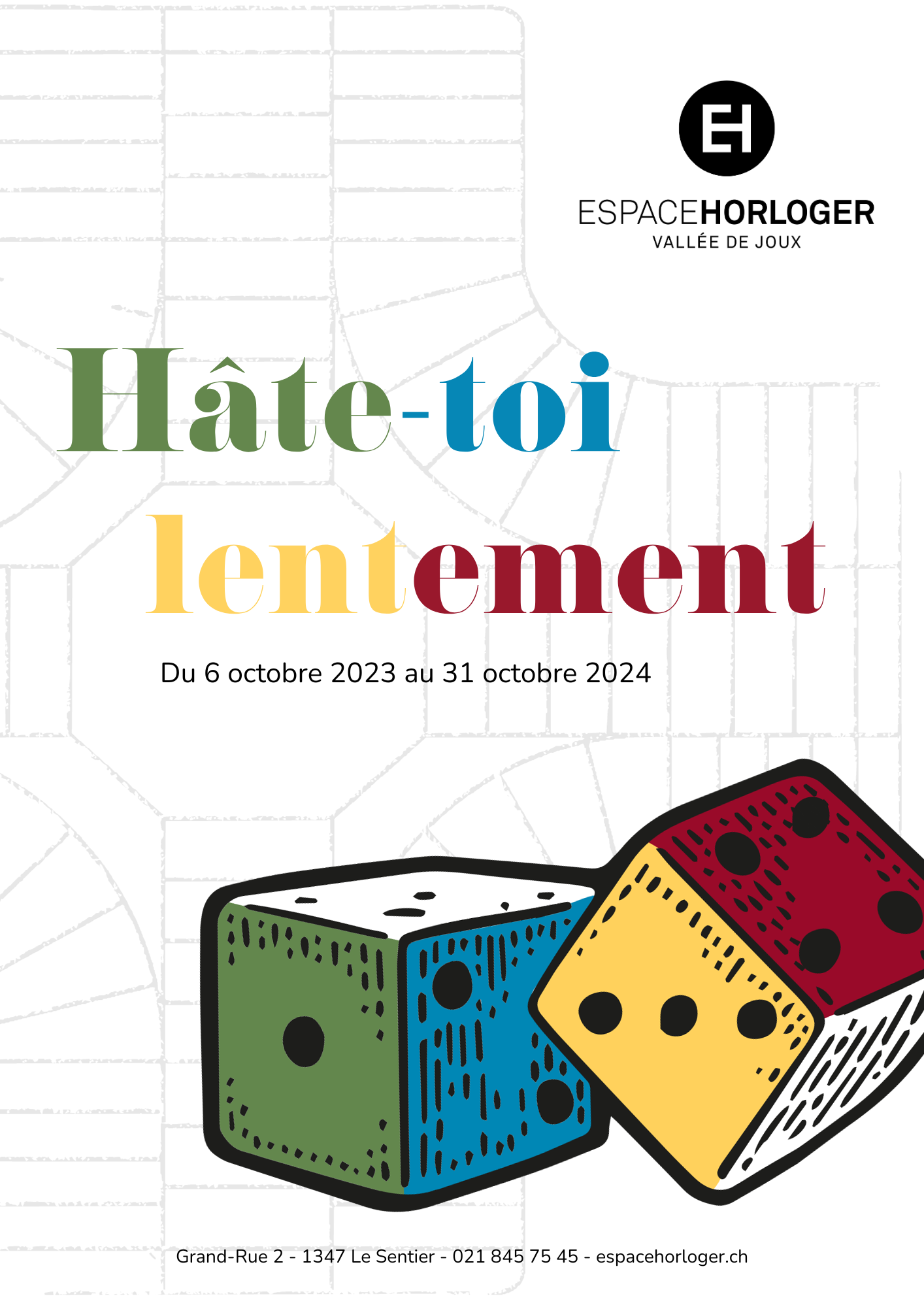 Hâte-toi lentement: Time in questions!
From October 6, 2023 to October 31, 2024
"Hâte-toi lentement: Time in questions" invites visitors to reflect on their relationship with time through four major themes that illustrate their relationship with time through the ages: Natural time, Personified time, Free time and Modern time. Made up of animated and theatrical showcases and interactive stations, "Haste-toi lentement" is an exhibition for families and the general public that looks at the commonplace and imaginary places that mark out our perception and conception of time.
Can time smell? Is a watch alive? Have watches always been on time? A number of "time users" have tried to answer these questions by sharing a fragment or image of their vision of time.
Many of the pieces come from the Espace Horloger's collection of antique clocks (the Gideon collection), some of which have never before been exhibited. They will be set against more recent pieces, creating unexpected contrasts – all presented in a playful scenography that will appeal to all the senses. Visitors will be able to take time to play, draw their own vision of time, reflect on their relationship with time, and sign up for workshops throughout the exhibition.
Practical information
Open to public from Tuesday to Sunday: 1:00 PM to 5:00 PM (winter schedule) / 10:00 AM to 5:00 PM (summer schedule).
Included in the admission price.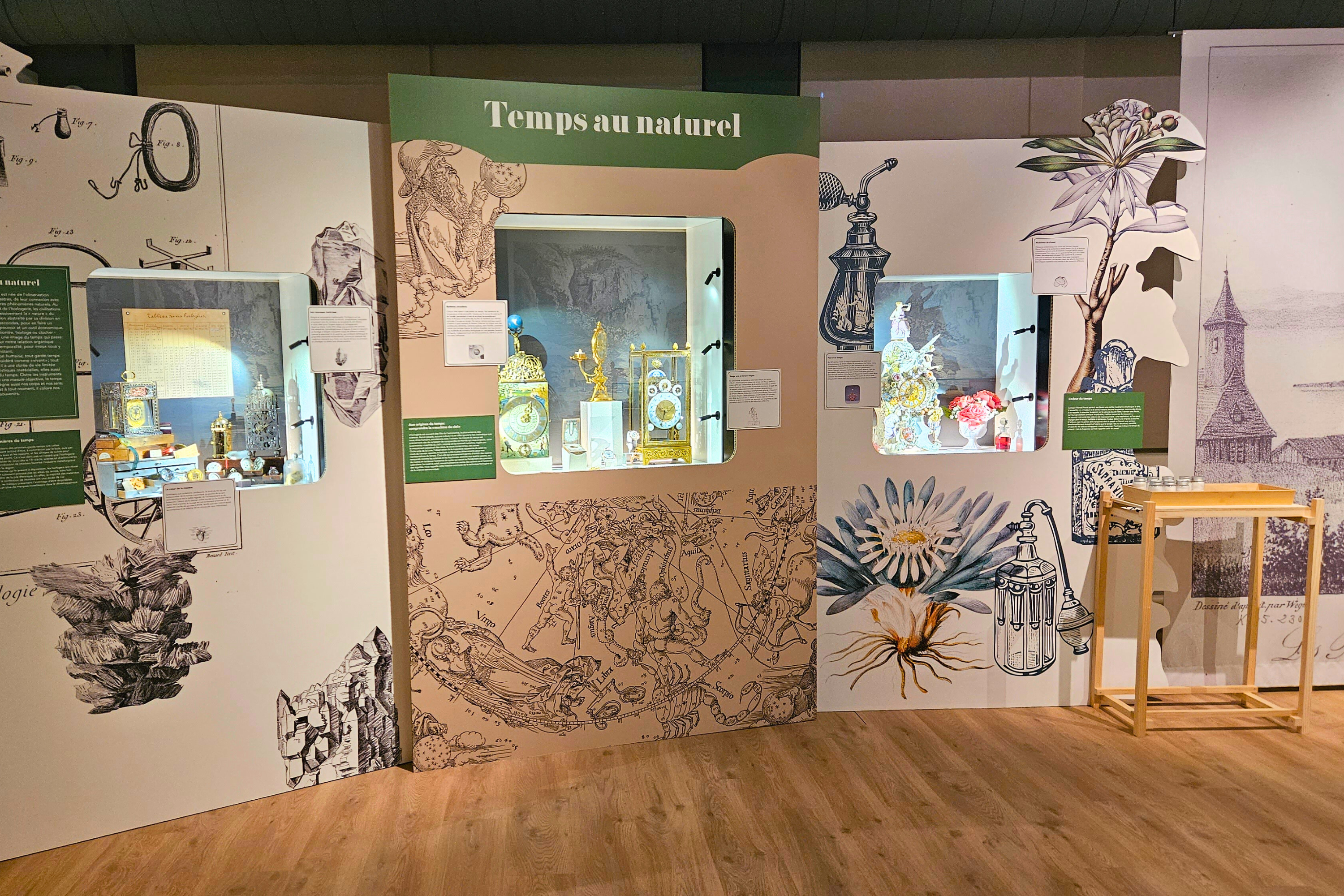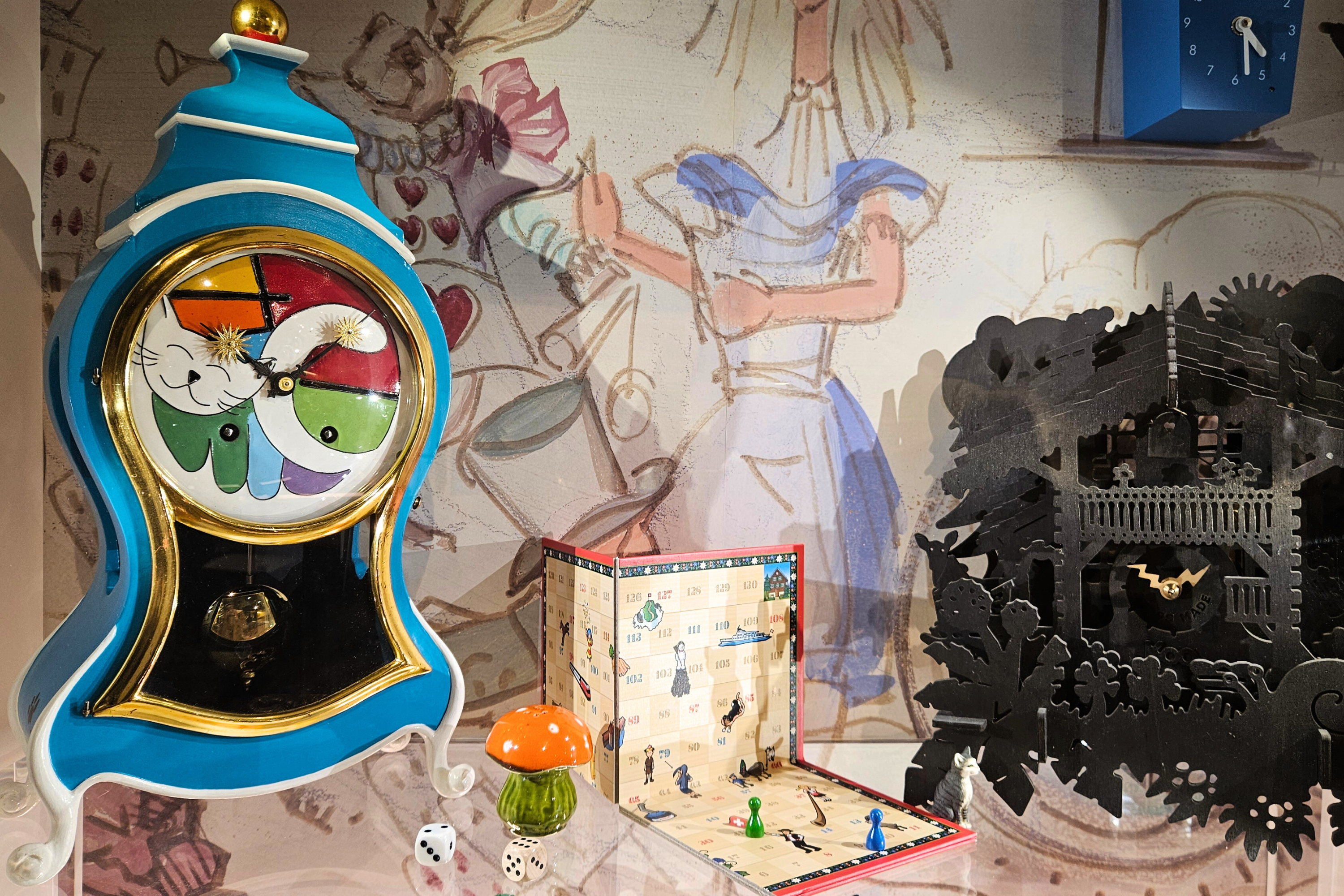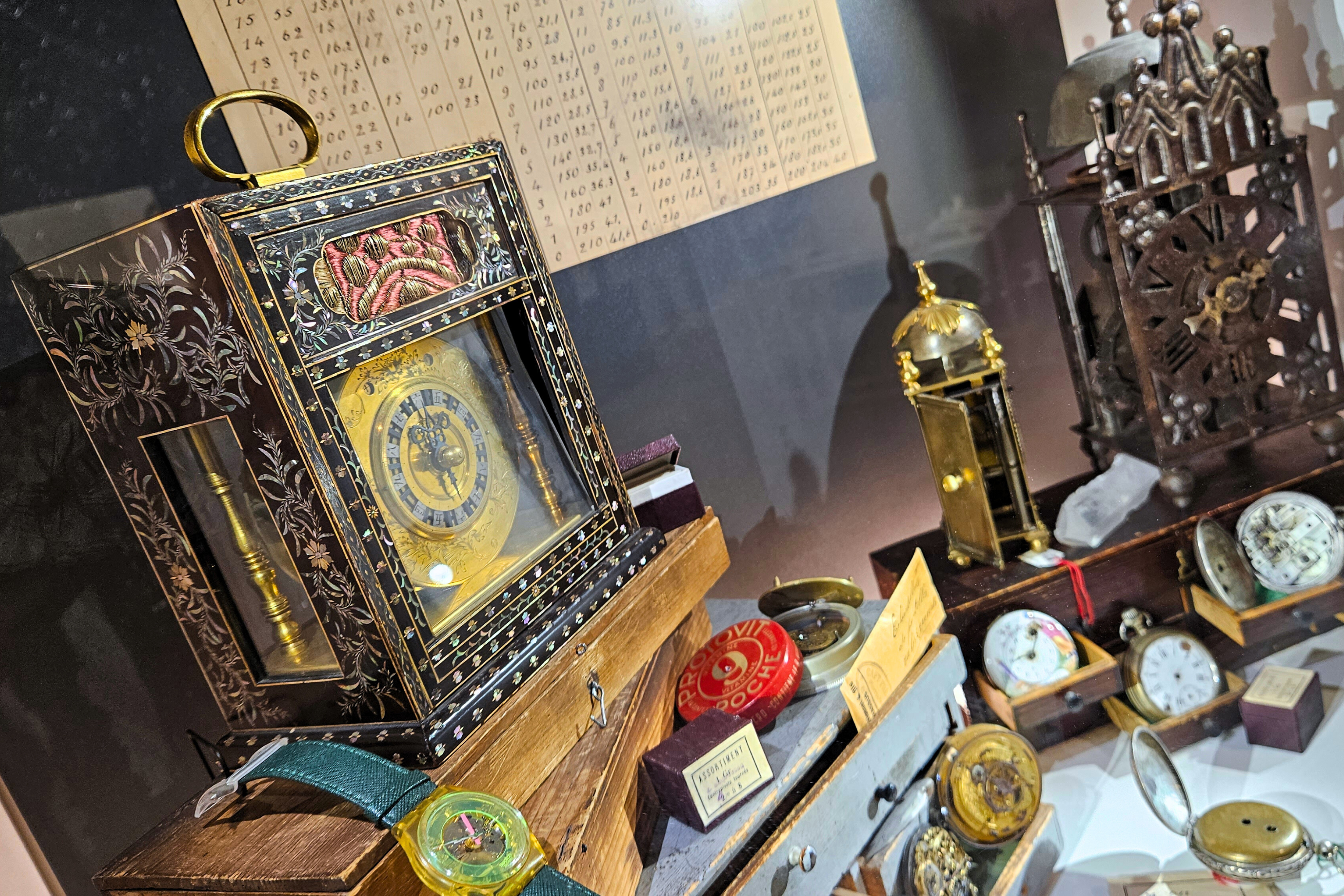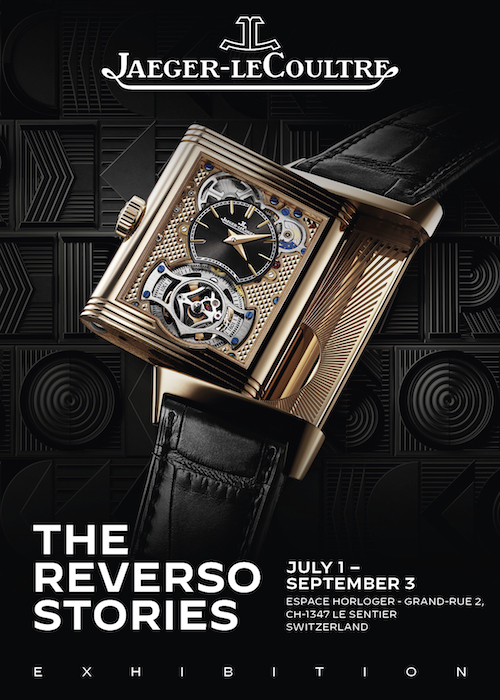 The Reverso Stories
July - september 2023
"The Reverso Stories" maps the creative and cultural universe of this exceptional model according to four themes, taking visitors on a journey through more than 90 years of timeless modernity. These four chapters are complemented by a presentation detailing the extent to which the Grande Maison has embodied the spirit of the Vallée de Joux for 190 years, nurtured by boundless creativity and tirelessly focused on innovation, with deep respect for the traditional values of Haute Horlogerie.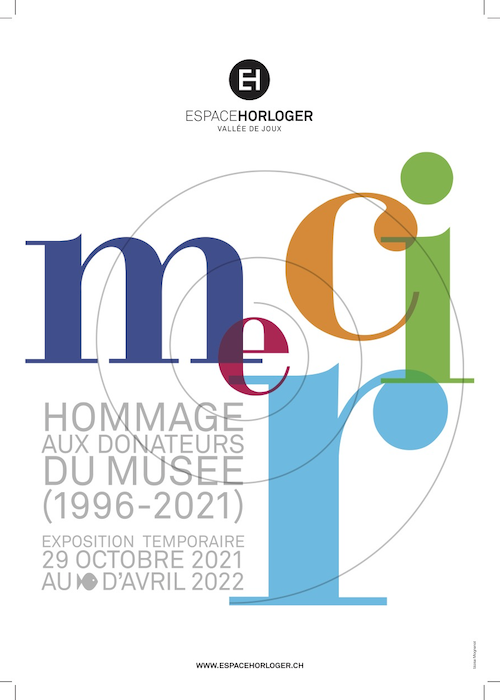 Merci
2021 - 2022
Through this exhibition, L'Espace Horloger aims to pay tribute to and express gratitude to the numerous donors who have contributed over the past 25 years. Since 1996, the collection of l'Espace Horloger has been enriched with hundreds of timepieces and objects, including many donations and legacies from individuals. This is an opportunity to come and discover these treasures !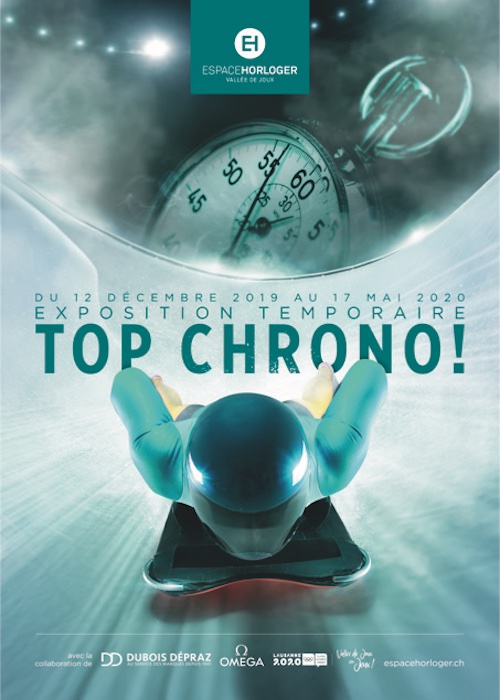 Top Chrono!
2019-2020
On the occasion of the 3rd edition of the Youth Olympic Games, which will take place in Lausanne, l'Espace Horloger, in partnership with the prestigious brands Omega and Dubois Dépraz, presents a temporary exhibition based on the historical journey of the Olympic Games and the emergence of timing in sports events.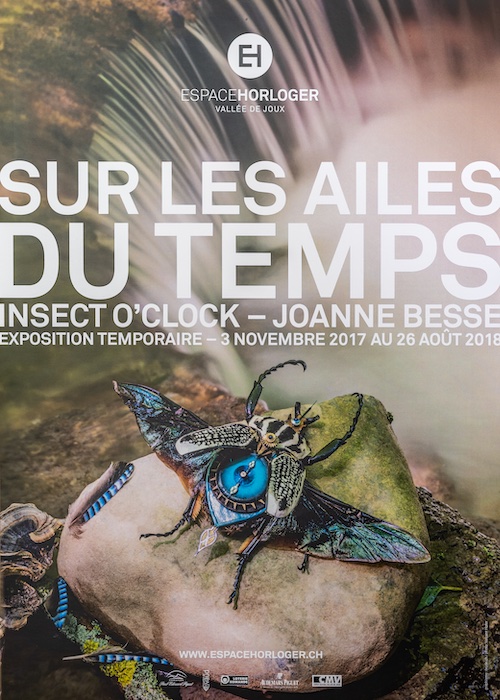 Sur les ailes du Temps
2017-2018
As part of its annual exhibition, l'Espace Horloger invites Joanne Besse and her artworks straight out of an imaginary world : insects adorned with magnificent timepieces. The artist takes us on an exploratory journey, a true tale that leads us through space and time into the universe of the most beautiful horological insects !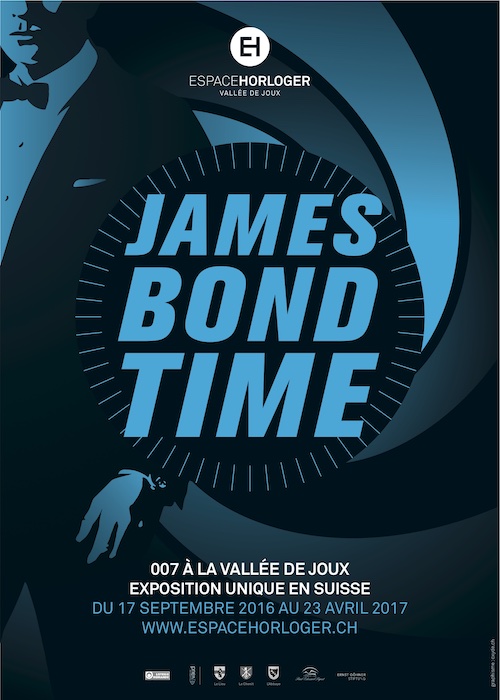 James Bond Time
2016-2017
For its 20th anniversary, the Espace Horloger of the Vallée de Joux has decided to create a unique exhibition in Switzerland on the theme of the famous secret agent 007 and his watches titled "James Bond Time". This exceptional exhibition will delve into the history of James Bond watches throughout his 24 films.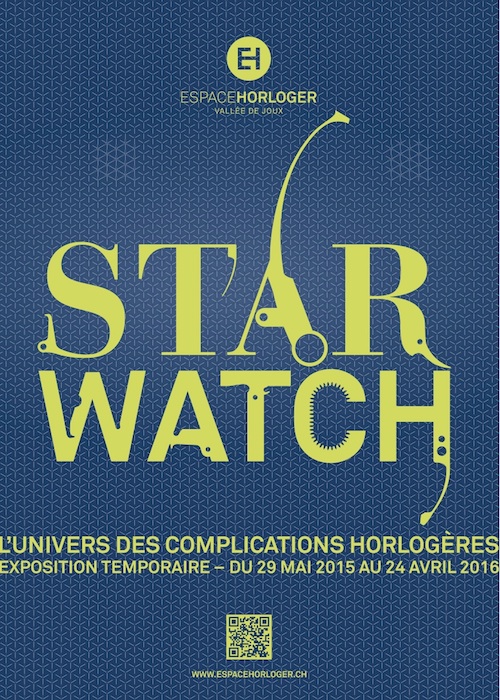 Star Watch
2015-2016
The upcoming temporary exhibition at l'Espace Horloger will focus on the history of 9 artisans, masters of grand complications, and the mechanical art of the Vallée de Joux, which in 1933 gave birth to the "Henry Graves" by Patek Philippe. Known to be the most complicated watch ever made entirely by hand, it features 24 watch complications.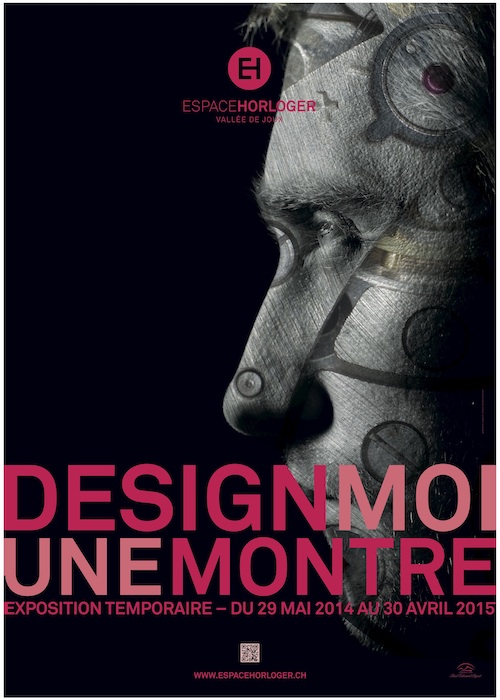 Design moi une montre
2014-2015
The Espace Horloger of the Vallée de Joux presents a unique exhibition on watch design and mechanical watch design. The fashion and artistic movements that have influenced watchmaking and later fostered the emergence of watch designers are explained and presented in a contemporary setting. Iconic timepieces are displayed, along with Swiss and international designers.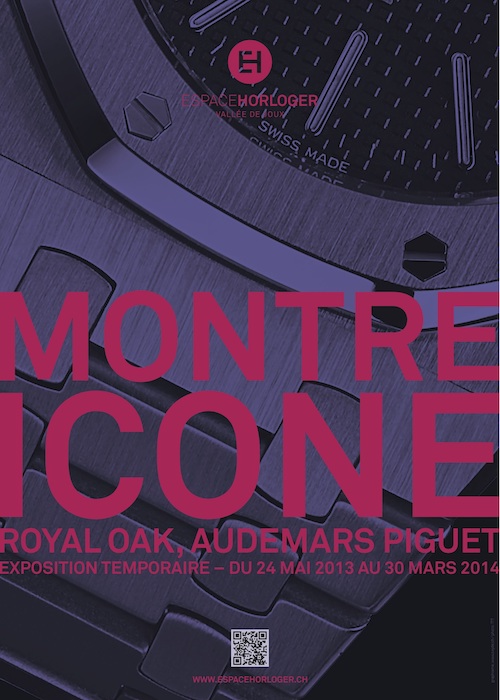 Montre icône
2013-2014
The Espace Horloger welcomes its latest temporary exhibition, an "iconic watch": the Royal Oak. Let's take a closer look at this timepiece with a DNA from the Vallée de Joux but an international reputation – the first luxury watch made of steel, and a necessary gamble for the survival of a company and an entire industry. We delve into the visionary creator Gérald Genta, who offered luxury a new definition and thereby elevated the artisanal crafts and their craftsmanship to a new dimension of prestige.